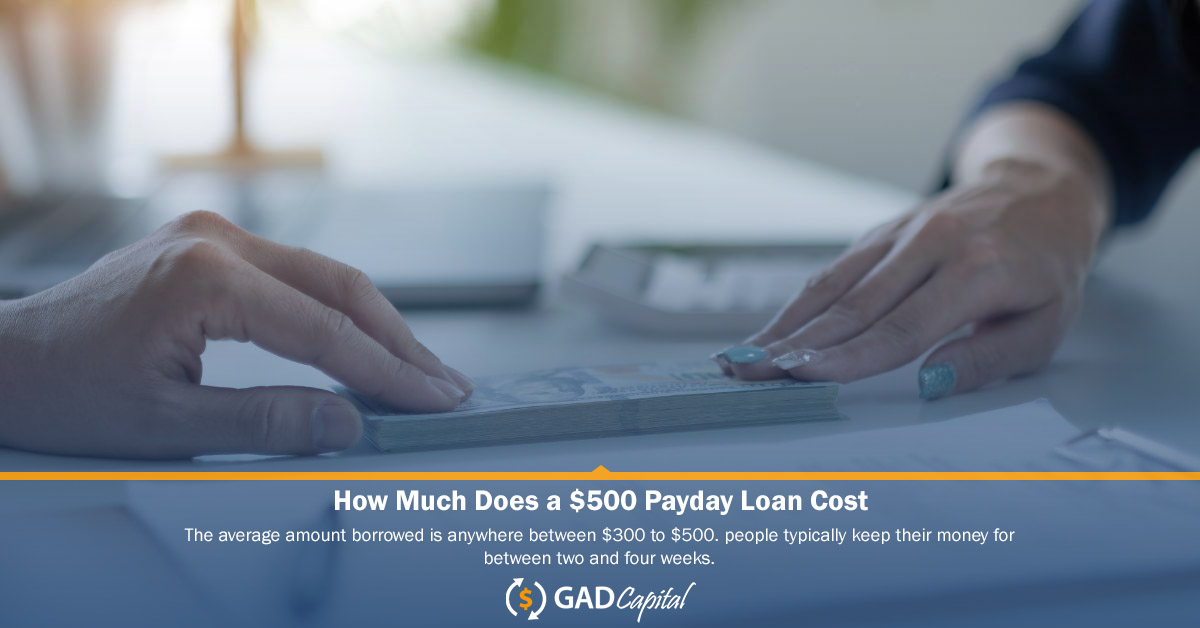 What is the $500 Payday Loan Cost?
The typical amount borrowed is between $300 and $500, and borrowers often keep their funds for two to four weeks. A payday loan's annual percentage rate (APR) ranges from 300% to 600%.
Still, this number can change depending on where you live and other factors, like your credit score and where life, which can change the rate you are charged.
People usually get payday loans in times of emergency or when they need a little extra money to get them through until their next paycheck, usually at the end of the month.
Even though it is not the most affordable sort of loan available, it serves a crucial purpose by providing you with the option to borrow money quickly for an unexpected expense and receive the money all at once.
Automated systems process most loan applications; as a result, applications are frequently processed, approved, and funded within an hour or on the same day they are submitted.
However, using this illustration as a guide, it is necessary to know how much a payday loan will cost you. This is because the loan will cost you more money the longer you keep it, and more critically, the fees will build up quickly if you cannot keep up with the repayments.
What do you need to know for a $500 payday loan?
After two weeks, the payday loan costs $500 is $546, and after four weeks, the cost is $592.

Payday loans are convenient and helpful in times of crisis, but they should never be used for anything more than a short period.

The fact that they are unsecured and frequently have to compensate for a high default rate contributes to the high cost of payday loans.

The annual percentage rate (APR) is relatively high since the interest on the loan is computed as if it were for an entire year, even though the typical term is only a few weeks.

If you cannot keep up with your debt payments, you might have to pay more late fees pay more interest, and have a detrimental effect on your credit score.
Is It a Very Expensive Thing to Get a Payday Loan for $500?
Yes. The $500 cost of a payday loan is significantly higher than that of other financial products such as credit cards or personal loans; however, payday loans are frequently used only for short-term financial needs.
A payday loan is a good option if you need financial assistance to get through a challenging period because you have an unexpected expense, such as the requirement to pay your rent or the cost of repairing your vehicle or home.
If you start using several payday loans, fall behind on payments, or use "top-ups" (also known as rollovers), this is where a payday loan starts to become quite expensive and can have a significant negative impact on your ability to manage your money.
Payday loans have their time and place; however, you should always consider how you will repay the loan on time and avoid accruing additional debt or making late payments.
Why Do Payday Loans Have Such High-Interest Rates?
Several factors contribute to the high cost of payday loans:
The payday loan is unsecured.
This type of loan is considered unsecured, meaning you are not required to provide any form of security or collateral to apply for it.
As a result, the lender will not be able to collect or repossess anything from you if you cannot repay the loan.
This indicates that your eligibility will be determined by your income, employment status, and credit score.  However, the lender will have to charge you more than the average loan amount.
This is because if you cannot make your repayments, the lender will suffer a loss, and they will not be able to reclaim their money through the repossession of any of your belongings.
They have a very high rate of default.
A high default rate is associated with payday loans, ranging from 15% to 25%, depending on the lending institution.
The default rate refers to the percentage of borrowers who cannot make repayments on time or at all. Because of this, it is referred to as "bad debt," and the lender will ultimately end up losing this money.
Regrettably, this indicates that rates will need to be slightly increased to compensate for the losses incurred by other individuals.
Does this imply that we may have to charge our loyal customers a slightly higher interest rate on their loans? This may be the case, but unfortunately, it's just how the product works.
They are only meant to be temporary.
This type of financing is intended to be used for a shorter period, so the interest rates are higher to reflect this and ensure that the lender will see a return on their investment.
After all, if they are going to take the risk of lending you a significant amount of money for a short period, such as $500 or $1,000 for just two weeks, then they are going to need to charge you a respectable interest rate for it to be worthwhile for them to do so.
To give you another illustration, a mortgage lender or bank might offer low rates of merely 3% or 5% per month, but the loan might be for 5, 10, or 25 years; hence, the total amount of interest paid is proportional to the length of time that the loan is outstanding.
Why do payday loans have such high APRs?
Payday loan APRs can range from 300% to 600%, which is absurdly high considering that the average APR for credit cards is around 16%.
Although the APR operates as an "annual" measurement to make it easy to compare to other financial products, the main reason the APR is so high is that it treats the loan as if it were a 12-month loan.
In reality, it's equivalent to taking a product that only lasts 2 to 4 weeks and adding to it over and over as if it were a yearly product, which inflates the price and makes it seem more expensive.
This doesn't mean that payday loans are cheap; they most certainly aren't. But you can compare the cost in various ways, such as by looking at the daily interest rate.
To get a good idea of how much it will cost, use an example of a payment plan spread out over two or three months.
What Will Happen if You Cannot Make Repayments?
The payday loan cost may increase if you cannot make your installments. The entire balance begins to increase due to late fines and additional interest.
It will also hurt your credit score, making it hard for you to get loans in the future. A court case involving unpaid payday loans is unlikely unless you have a significant debt load.
However, it would help if you always thought about how to repay your loan on time to avoid legal action and additional expenses.
Is it possible for you to get a loan for $500?
Yes, it is possible to obtain a loan for $500. However, this will depend on the online lender you work with and your financial situation.
Different lenders offer loans in a wide range of amounts, and your eligibility for a specific part of the loan is based on several factors.