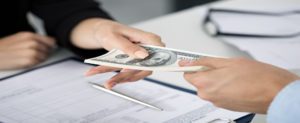 Factoring receivables are the type of business funding where the business sells its outstanding invoices to a factoring company. The lender usually offers you a lump sum to cover a percentage of the invoice. The factoring company will also charge a fee for factoring your invoices. There are two types of factoring receivables. Recourse factoring is when you the business owner takes responsibilities for the invoices. That means that the business owner will need to replace the outstanding invoice with another invoice with the same amount or a higher amount.
With the non-recourse factoring, the factoring company takes responsibility for all the invoices. If a customer is unable to pay his or her invoice, the factoring company will take responsibility for it. Due to the risk involved in the non-recourse is high hence the rate is usually high. Some lenders charge an overall factoring fee that is decided by the creditworthiness of the customers whose invoices are being factored. It also depends on the volume of the monthly invoices.
Some factoring companies also charge additional fees aside from the factor rate. These costs cover collateral, shipping, and money transfer.
Best Account Receivable Factoring Companies
There are several companies that factor invoices, however, there are certain companies that are known to offer the best terms when it comes to factoring invoices. Check them out.
BlueVine
BlueVine factors invoices of all types of business entities. You do not need a minimum bank balance to qualify for BlueVine's invoice factoring. BlueVine can factor your invoice on the same day you apply for it. Sometimes too the factoring can take up to three days. Unfortunately, if you operate a business that is in the gambling, medical, or adult entertainment industry, you cannot qualify for their invoice factoring. Businesses with irregular cash flows can rely on this company to regularize their cash flow. They have a simple and transparent factoring term to help you do that. BlueVine allows you to connect your invoicing or accounting software such as Xero, QuickBooks, and Freshbooks. Once you connect your account, you can choose the invoices that you want to be paid online.BlueVine can fund invoice amounts that range from $20,000 to $500,000. You will need to repay the advance in 1 to 12 weeks. The repayment usually depends on the payment term of the invoices you factor. The rate is 0.4% to 1% charged as a weekly discount. To qualify for BlueVine's invoice factoring, you will need an annual revenue of $100,000 and a personal credit score of 530. Your business should also be in operation for at least 3 months.After a successful initial invoice factoring, the subsequent ones will be approved in minutes. BlueVine offers you an 85% advance on your invoices. BlueVine takes care of the invoice collections. It also communicates with the customers and handles customer relationships. If your invoices have passed the due date, Blue Vine will not accept them. You should also note that BlueVine reports to Experian.
FundBox
FundBox also works with any type of business entity. On average, this company factors invoices in one day. Although it can take up to 5 days on a rare occasion. With FundBox, it is easy to access funds after the initial funding. Whenever you need funds, you can access funds immediately. FundBox does not advance a percentage of the total invoice amount. It offers you the full amount. FundBox does not take maintain a relationship with your clients. Hence, this firm is ideal for companies that feel uncomfortable when third parties negotiate with their clients. This firm does not report to credit reporting bureaus. You can factor invoices that range from $1,000 to $100,000. You will need to repay the lump sum between 3 to 6 months. The rate ranges from 0.5% to 0.7% of the original invoice per week.There is no annual revenue requirement. There is also no personal score requirement. However, you will need to be in business for at least 6 months. Unfortunately, this company cannot factor your business' invoice if you are not in the United States. If you do not use accounting software too, this firm will not work with you. You need to have accounting software such as Harvest, Wave, Xero, QuickBooks Online, QuickBooks Desktop, SageOne, Invoice ASAP, and Clio. One of the major advantages of FundBox's factoring terms is that you can save on rates when you pay early. This lender will waive the remaining fees if you pay early. There is no problem if you do not have a personal guarantee or collateral. This lender will not ask for one.This factoring company will also not put a lien on your business. If you are sure that you cannot repay the advance in 12 to 24 weeks, this lender is not a good fit for your business. This firm will also not be the best option if you need to factor invoices that are worth more than $100,000.
Paragon Financial Group
This company factors invoice amount that ranges from $25,000 to $10 million per month. This lender advances between 70% and 80% of the invoice amount at a discount rate that ranges from 1.25% to 2% per month. There is small on- time origination. Fortunately, there is no additional fee. This firm can fund your invoice in 3 to 10 days in the initial funding. However, they can offer you an advance in less than 24 hours.With Paragon Financial Group, there is no credit score requirement. There is also no minimum requirement about the number of years you have been in business. You will, however, need to present a minimum annual revenue of $300,000.
TCI Business Capital
You can factor between $50,000 to $20 million per month. They advance up to 90% of invoices that are due in 30 to 90 days. The discount rate for invoice factoring ranges from 1% to 4% monthly. Fortunately, they do not charge origination fees. You will, however, need to pay a $12.95 ACH fee and a $19.99 wire fee. This lender can fund your initial request in 3 to 4 days. The subsequent ones will take less than 24 hours. They do not have a minimum credit score requirement. They do not request for a minimum duration in the business as well. You will, however, need a minimum annual revenue of $600,000. This lender offers recourse factoring. TCI Business will interact with your customers. TCI allows you to choose the customers whose invoices you want to factor every month.